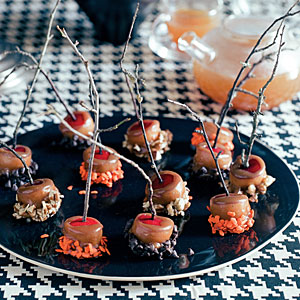 Mini Caramel Apples
Ingredients
3/4 cup light corn syrup
1 cup sugar
1/2 cup unsalted butter
About 1 1/4 cups heavy whipping cream, divided
1/2 cup chopped toasted pecans
1/2 cup mini chocolate chips
1/2 cup decorative mini orange candies
2 large red apples
About 20 slender but sturdy twigs, about 4 in. long each
Preparation
1. Heat corn syrup, sugar, butter, and 3/4 cup plus 2 tbsp. cream in a 3-qt. saucepan over medium-high heat until mixture reaches 275° on a candy thermometer*, about 15 minutes, stirring often with the thermometer or a wooden spoon once it starts to brown. While caramel boils, prepare the remaining ingredients (you'll need to have everything ready before beginning step 3).
2. Grease a baking sheet and set aside. Put nuts, chocolate chips, and candies on individual plates and set aside. Using a 1-in. melon baller, cut apples into balls (you should get 8 to 10 from each apple). Push thickest end of a twig into each apple ball through skin side to center. Set on paper towels to absorb moisture.
3. Remove caramel from heat when at 275° and pour in remaining 1/4 cup cream, stirring until very smooth (it will come together after about 1 minute) and being careful of any splattering caramel.
4. Dip apple balls into caramel, making sure caramel comes over edges of skin and letting excess drip off. Dip bottom of each ball into either nuts, chocolate chips, or candies, then set on the baking sheet to cool.
*You'll need an accurate candy thermometer. Check it by immersing in boiling water; it should read 212°. If it's a few degrees too high or low, cook the caramel to a corresponding few degrees more or less. If it's way off, get a new thermometer.
Make ahead: Chill until ready to serve, up to 3 hours ahead. Serve at room temperature.
Note: Nutritional analysis is per mini apple.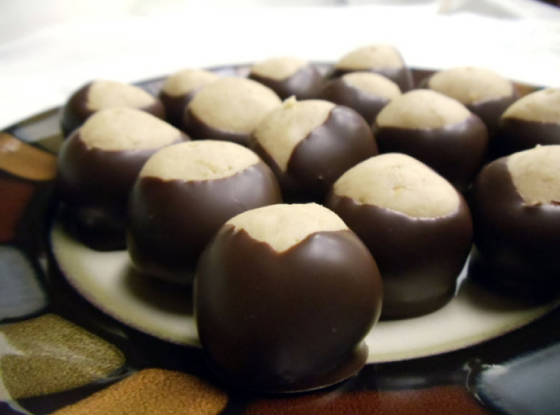 Peanut Butter Balls
| | | | | |
| --- | --- | --- | --- | --- |
| Cook time: | | | Difficulty: | EASY |
| Prep time: | 1 Hr | | Serves: | 24 |
- 1 1/3 c peanut butter

- 1 1/3 c graham crackers, crushed

- 2 stk margarine,melted

- 1 tsp pure vanilla extract

- 1 bx powdered sugar

- 1/3 block paraffin

- 12 oz bag semi sweet chocolate chips
1. Mix peanut butter, margarine, vanilla in large bowl. Mix in graham crackers and powdered sugar with hands until stiff. Form into bite size balls.

2. Melt chocolate chips and paraffin in top pot of a double boiler. (with simmering water in lowest pot) Dip peanut butter balls into melted chocolate with toothpick and put on wax paper to dry.

Irish Cream Truffle Fudge
Ingredients
3 cups semisweet chocolate chips
1 cup white chocolate chips
1/4 cup butter
3 cups confectioners' sugar
1 cup Irish cream liqueur
1 1/2 cups chopped nuts
1 cup semisweet chocolate chips
1/2 cup white chocolate chips
4 tablespoons Irish cream liqueur
2 tablespoons butter
Directions
Butter a 8x8 inch pan.
Place the 3 cups semisweet chocolate chips, 1 cup white chocolate chips and 1/4 cup butter into a microwave safe bowl, then microwave at 45 second intervals until melted.

Stir in the confectioner's sugar and Irish cream until mixture is smooth. Stir in nuts. Place mixture in the prepared pan and lay a sheet of plastic wrap over top; press and smooth top down.
Melt remaining chocolates until soft. Remove from heat and with a fork beat in the butter and Irish cream until smooth. Spread topping over cooled fudge with a knife. If a smooth top is important place plastic wrap over the top. Refrigerate until firm, 1 to 2 hours at least. This fudge can be easily frozen.

Peppermint Fudge
Ingredients

1 2/3 cups granulated sugar
2/3 cup NESTLEŽ CARNATIONŽ Evaporated Milk
2 tablespoons butter or margarine
1/4 teaspoon salt
2 cups miniature marshmallows
1 1/2 cups NESTLEŽ TOLL HOUSEŽ Semi-Sweet Chocolate Morsels
1/2 teaspoon vanilla extract
1/4 teaspoon peppermint extract
1/4 cup crushed, hard peppermint candy

Directions

Line 8-inch-square baking pan with foil.
Combine sugar, evaporated milk, butter and salt in medium, heavy-duty saucepan. Bring to a full rolling boil over medium heat, stirring constantly. Boil, stirring constantly, for 4 to 5 minutes. Remove from heat.
Stir in marshmallows, morsels, vanilla extract and peppermint extract. Stir vigorously for 1 minute or until marshmallows are melted. Pour into prepared baking pan; cool for 1 minute. Top with candy, pressing in slightly. Refrigerate for 2 hours or until firm. Lift from pan; remove foil. Cut into 48 pieces.